20.10.
After the victory of Fanny at the Coursing on 28.09. in Volkmarsen we had our sporty year-end on Ronostrand in Een / Netherlands. Both girls, Ely and Fanny, were in the time after heat, but went really very well. See also Singo (Elwë Singollo iz mira älf), who, as always, made his own thing suan … my heart dog. Thor made his coursing debut and went fantastic, so only 3rd place is a mystery but to me…it's coursing. We are looking forward to next year.
22.09.
Unbelievable but true … yesterday our "Fanny" (Falanyel iz mira älf) became GERMAN COURSING WINNER 2019. 13 bitches took part in Hoope. We are very happy, as we have qualified Fanny for the European Championship Coursing EM 2020 in Hungary next to our "Ely" (Enelyë iz mira älf).
10.09.
WOW! This year is our sport year! Thor ist EUROPEAN CHAMPION 2019 of the race track! But have also a look at Fanny! 
28.08.
We have the confirmation by ultrasound, Volna is pregnant. We hope for a uncomplicated pregnancy and a natural birth! Both puppies would be not available! 
26.08. 
We were at the double CACIB Rotterdam 2019. Have a look under "Fanny" and "Thor" but in advance Thor got on day 2 BOB2!
19.08.
At the weekend we were in Hamburg to the German and International Derby 2019. Ely and Singo started at the GD and Thor at the ID. Have a look under "Successes" of each dog. 
03.08.
The marriage has taken place!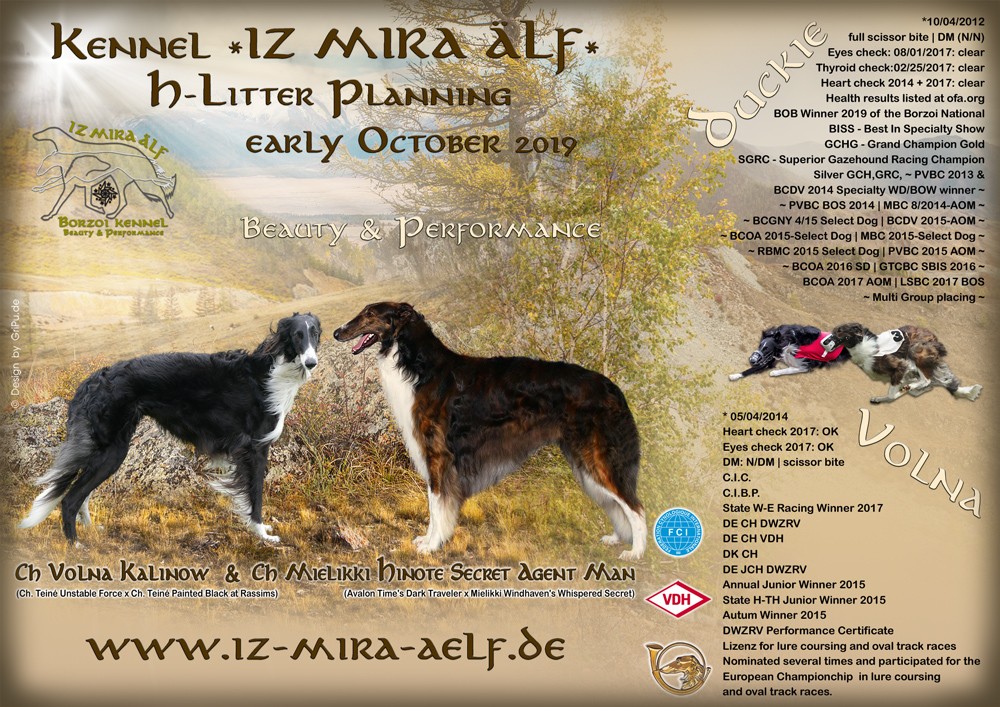 24.07.
Now we can give the 100% "Go", we have clarified everything and the approval of DWZRV is already available to us. The planning for our H-litter is in full swing! Take a look under "Litter planning"!
Update on the race in Hünstetten. Ely (Enelyë iz mira älf) run the new track record with 19.94 sec. on 280 m! Yahoo!
22.07.
Joy and sorrow are so close together. On Friday 19.07.2019 we had to say goodbye to our beloved Ulknudel Bogisha. The OP on 17.06. has caused a malignant spleen tumor, this type of tumor is very common in old dogs, even our Kira (Australia Shepherd Mix) has died of it. Unfortunately only 4 but beautiful week stayed with her. She  fell asleep peacefully in my and Michael's presence.
Well, and one day later Volna has become in heat. Fate? Now that she has become in heat so much later than expected and the next heat would fall too late for next year, we want to take the hint of fate seriously and are currently planning the H-litter with her. Since there are still some things to clarify, we still can't say for 100% "Go".
Yesterday we were with Fanny, Ely, Singo and Thor for the race to Hünstetten. Fanny had a test run with her brother Falmarin. Both were fast and very focused on the lure! Well done! Unfortunately, Thor was alone and completed only one show run but in a hammer time, 30.84 sec. on 480 m.
The run of the Borzois was again spectacular, 5 went to the start, 2 R and 3 H. Unfortunately, the one bitch did not come out of the box. Ely and Singo are in the lead immediately, Ely had 19.94 sec. and Singo 20.32 on 280m! Unfortunately, the other male showed his position here at the finish. Since it was after the goal, it was not punished. Ely and Singo had a bad start on the second run, Ely out of Box 1 overtook inside and Singo out of Box 3 overtook all on the outside. Unfortunately, the other male attacked Ely so massive that she dropped back. In the meantime, however, Singo was able to effortlessly pass outside the field and thus won the race to our great delight. I did not notice, because I only had eyes for Ely who worked after the attack again from positive 4 to position 3 and all on 280 m. Since the male under white was on 2nd place and of course received a disqualification, he also attacked his sister, the distribution on the winner's podium looked like this. 1st place "Singo" (Elwë Singollo iz mira älf), 2nd place "Ely" (Enelyë iz mira älf) 3rd place Pyashka's Ciara. Am very proud of my "Älfen" !!!
04.07.
At the annual Borzoi show, our Fanny (Falanyel iz mira älf) was able to defend against 8 other bitches and the JBOB against the male and got: V1, JCAC, JVDH and JBOB, Jahresjugendsiegerin 2019. Ely got EXC4 in working class and Volna in a heavily occupied champion class EXC3. During the coursing the other day, only one round was pulled because of the heat, unfortunately the hare stayed on the 3rd last role, despite this shortcoming Ely managed a respectable 4 place out of 18 Borzois! A very hot but great weekend!
30.05.
"Ely" ENELYË IZ MIRA ÄLF is European Coursing Champion 2019
Wahoooo! After an exciting day, a fantastic result and a happy party, today we would like to thank all the gratins for the kind words! Yes, we have to say…..we are over the moon and back and again over the moon. Our beloved "Ely" (Eneleyë iz mira älf = Ch.Diva Slatina de l'Hermitage d'Eole x Ch.Dikaja Varjag) is now European Coursing Champion 2019 with CACIL and EE CAC…..from 39 females! She had with 888 points the highest of the day and 4th highest of the hole event! Happy, happy, happy and of course very proud of Ely
27.01.
On 24th of February, 1 year after the F-Litter, Uschi gave us a beautiful and strong mal puppy in red bringle IM. "Gavar iz mira älf" is born! 
21.01.
Yeah, the good thing….Uschi is pregnant! But there were only 2 bubbles found! But we are happy and looking forward to welcome the new earthlings! A new attempt is possible and will be considered!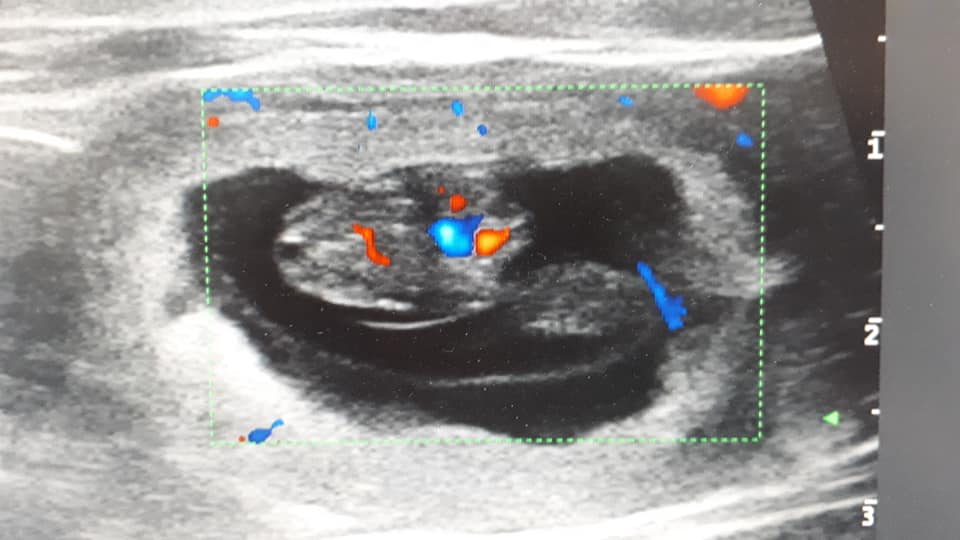 Last Update 27.12.2018
Uschi got in heat on 09th of December, so she had married on 23th of December and we hope for the G-Litter on 23th of February 2019.